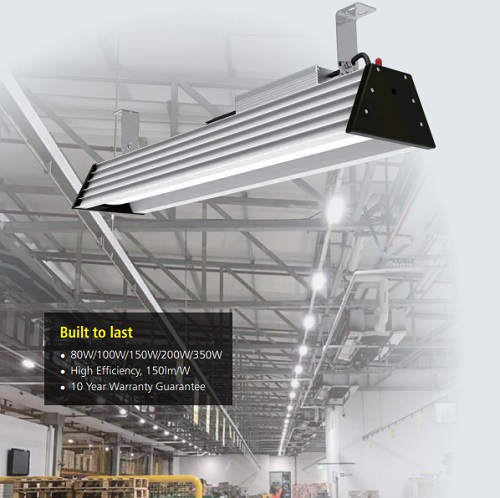 Why do you need to replace your traditional t5 t8 t10 high bay low bay by LED fixtures? The traditional fixtures have problems such as low energy efficiency, short life span, high maintenance costs, and environmental pollution issues.
Led high bay fixtures are 80% more energy efficient than traditional highbays, have a service life of more than 50,000 hours, have low maintenance costs, are highly protective and can be used in harsh environments.
TUBU's led linear high bay features the following, ideal for replacing traditional high bay.
Features:
• High Output LED's,up to 140~150lm/W
• Low glare, Provides Improved Visual Comfort
• High CRI >80
• Meanwell brand driver ,TUV UL CE certificate,PF>0.96, THD<12
• Flicker free
• Environmentally friendly, no mercury, No UV, No IR
• IP65, indoor, outdoor use
• 10 Year Warranty on complete fixture. (LED's, Driver, & Housing)
• ETL/cETL/DLC/CE/RoHs/FCC/IP66 certified
• 1-10V Dimming,Microwave Sensor, Dali control Options
• Pendent Mount or Surface Mount
• Hanging mount accessories included
[av_heading heading='Related Products' tag='h2′ style='blockquote modern-quote' size='36' subheading_active=" subheading_size='15' padding='10' color=" custom_font=" av-medium-font-size-title=" av-small-font-size-title=" av-mini-font-size-title=" av-medium-font-size=" av-small-font-size=" av-mini-font-size=" admin_preview_bg="][/av_heading]
[av_masonry_entries link='portfolio_entries,38′ wc_prod_visible=" sort='yes' items='12' columns='4′ paginate='pagination' query_orderby='date' query_order='DESC' size='flex' orientation=" gap='1px' overlay_fx='active' id=" caption_elements='title excerpt' caption_styling=" caption_display='always' color=" custom_bg=" av-medium-columns=" av-small-columns=" av-mini-columns="]