US Food and Beverage Factory LED Lighting Specifications, NSF Certification, and Product Design Recommendations LEDs are an important technology in the food and beverage manufacturing environment. Products and equipment must comply with complex regulatory regimes, including NSF certification.
In the United States, the food and beverage industry is heavily regulated by the US Food and Drug Administration (FDA) and the US Department of Agriculture (USDA). There are similar regulatory agencies in other parts of the world. In order to maintain hygienic conditions, all instruments and equipment (including lighting products) used in the production and packaging of food and beverages must comply with the strict manufacturing standards established by NSF International (NSF). In this article, we will briefly introduce NSF certification and explain whether industrial LED lighting is particularly suitable for these applications.
In fact, in order to maintain public health and worker safety, food and beverage facilities must meet some of the most stringent standards of the same industry. Originally established in the United States by the National Sanitation Foundation, NSF has operated NSF International worldwide since 1990.
Like many applications, food and beverage companies are increasingly adopting solid-state lighting (SSL) technology to achieve energy savings and longer LED life. However, today's solid-state lighting (SSL) products provide a powerful environmental solution for all demanding regulatory requirements, making LEDs an ideal choice for NSF-certified lighting.
Food and Beverage Factory Environment
The lighting equipment used in food and beverage plants is of the same type as in ordinary industrial environments, except that certain fixtures must be carried out under hygienic and sometimes dangerous conditions. The type of lighting product required and the applicable standards depend on the environment in a particular area; food processing facilities typically contain a variety of environments under one roof.
Factories may include multiple areas such as processing, storage, distribution, refrigerated or dry storage, clean rooms, offices, corridors, halls, restrooms, etc. Each area has its own set of lighting requirements. For example, lighting in food processing areas typically must withstand oil, smoke, dust, dirt, steam, water, sewage, and other contaminants in the air, as well as frequent flushing of high-pressure sprinklers and harsh cleaning solvents.
NSF has established criteria based on regional conditions and the extent of direct contact with food. The NSF standard for food and beverage lighting products, called NSF/ANSI Standard 2 (or NSF 2), divides the plant environment into three regional types: non-food areas, splash areas, and food areas.
NSF and Food
Since the lighting products are not in direct contact with food, only the "Non-Food Zone and Splash Zone Guide" in NSF is applicable. LED lighting manufacturers seeking NSF-2 certification for their products must ensure that the shape design, materials used and manufacturing processes used are in compliance with the relevant NSF standards.
In some locations, such as grain processing plants, areas with combustible dust or flammable gases can create dangerous conditions. In these environments, food and beverage lighting products are typically classified as "hazardous applications" in the US National Electrical Code.
Ceilings in various areas of food processing plants can also pose challenges for industrial LED lighting. In addition to frequent flushing, these ceilings sometimes have to support the weight of pipes and other equipment as well as maintenance personnel, which complicates the installation and replacement of lighting equipment. In addition, the ceiling of the refrigerating compartment and the venting chiller room should be as thick as the thermal barrier but may affect the structural integrity of the ceiling installation. Lower ceilings also require a luminaire with a wider beam angle for vertical horizontal illumination.
Lighting Specifications for Food Processing
Like most lighting applications, IESNA (North American Lighting Engineering Association) has set recommended lighting levels for a variety of food processing activities. For example, IESNA recommends that the food inspection area has an illumination range of 30 to 1000 fc, a color classification area of 150 fc, and a warehouse, transport, packaging, and restroom of 30 fc.
However, since food safety also depends on good lighting, the US Department of Agriculture requires adequate lighting levels in Section 416.2(c) of its Food Safety and Inspection Service Manual. Table 2 lists the USDA illumination requirements for selected food processing areas.
Good color reproduction is critical for accurate inspection and color grading of foods, especially meat. The US Department of Agriculture requires a CRI of 70 for general food processing areas, but a CRI of 85 for food inspection areas.
In addition, both the FDA and the USDA have developed photometric specifications for vertical illumination distribution. Vertical surface illumination should measure 25% to 50% of horizontal lighting and there should be no shadows where it is possible to compromise critical plant areas.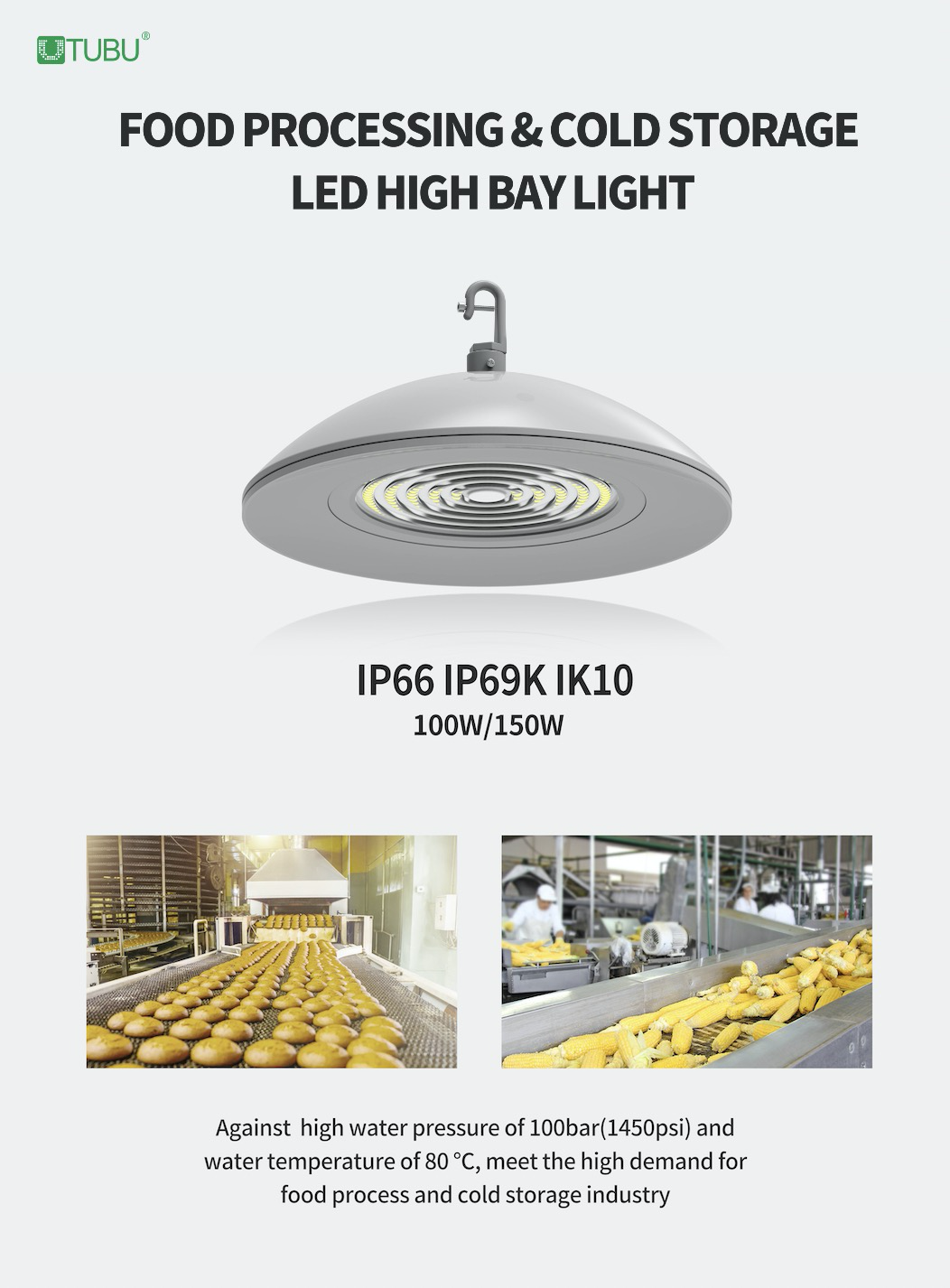 In view of the many hygienic, safety, environmental, and luminosity requirements of the food industry for lighting equipment, industrial LED lighting manufacturers should meet the following key design elements:
Use non-toxic, corrosion-resistant, and flame-retardant lightweight materials such as polycarbonate plastic and certain metals
Avoid using glass if possible
Design a smooth, dehydrated outer surface with no gaps, holes, or grooves that may retain bacteria
Avoid paint or coating surfaces that may peel off
Use tough lens material to withstand multiple cleanings, no yellowing, and wide and even illumination
Uses efficient, long-lasting LEDs and electronics to operate well in high temperatures and refrigeration
Sealed with NSF-compliant IP65 or IP66 lighting fixtures, still waterproof and prevent internal condensation under high pressure flushing up to 1500 psi (splash zone)
Since food and beverage plants can use many of the same types of lighting, standing industrial LED lighting products may also be an alternative to NSF certification, including:
Equipment with IP65 (IEC60598) or IP66 (IEC60529) protection rating
Luminaires with UL wet or UL moisture rating
Airtight products in hazardous locations (eg Class I, Class 2, Groups A, B, C, and D)
Cleanroom equipment (eg ISO-14644, Category 3 to 9, Federal Standard 209E, Category 1)
LED food and beverage lighting advantages
For the food and beverage industry, properly designed LEDs have many advantages over most traditional lighting, such as the absence of glass or other fragile materials that may contaminate food, improving light output, and low-temperature conditions in cold storage. Efficiency, low maintenance costs, longer life (70,000 hours), non-toxic mercury, higher efficiency, wide adjustability and control, instant performance, and wide operating temperature.
The emergence of efficient solid-state lighting (SSL) makes it possible to apply smooth, lightweight, sealed, bright, high-quality lighting for many food industry applications. Long LED life and low maintenance can help transform the food and beverage industry into a clean, green industry.